22 March 2016, 04:50 PM (This post was last modified: 22 March 2016, 07:04 PM by Black Wargreymon X. Edit Reason: Addition of information. )
Brussels metro explosion: Terror attack fears across city as third blast heard at train station
Brussels (The Mirror)
An explosion at a Brussels metro station has increased fears that the city is under a terror attack following two blasts at Brussels Airport this morning.
The blast was seen at
Maalbeek
metro station, in central Brussels.
Maalbeek metro station is close to the European Union building, and authorities have now closed down all metro stations in the city.
[Source]
[Live updates for Brussels]
---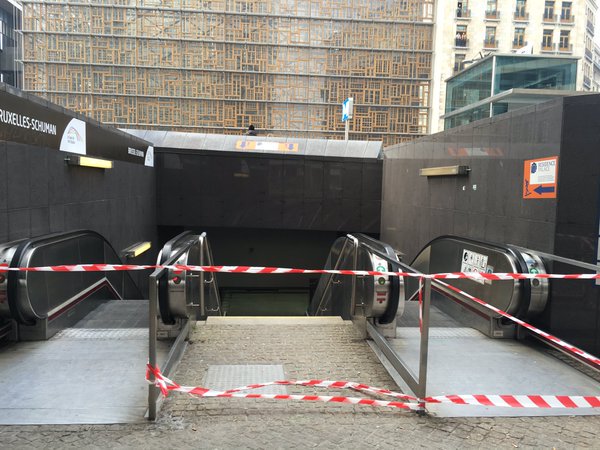 Image from Twitter.
The entire Brussels metro station is closed.
A bomb is said to have detonated at a train that is travelling between -
Maalbeek Station and Arts-Loi/Kunst-Wet Station
.
---
'10 dead in Metro explosion'
Brussels (The Mirror)

Ten people have been killed in an explosion at a Metro station in Brussels, according to Belgian public broadcaster VTM.
Meanwhile 13 people are said to have died in the blasts at the airport this morning taking the current death toll reportedly to 23.
The terror threat has been increased to its maximum level in Belgium.
Near the entrance to the Maelbeek subway station, not far from the headquarters of the European Union, rescue workers set up a makeshift treatment centre in a local pub.
Dazed and shocked morning travellers streamed from the metro entrances as police tried to set up a security cordon.
"The metro was leaving Maelbeek station when there was a really loud explosion," said Alexandre Brans, 32, wiping blood from his face. "It was panic everywhere. There were a lot of people in the metro."
First responders ran through the street outside with two people on stretchers, their clothes badly torn.
[Source]
All Eurostar services to-and-from Brussels are cancelled.
---
Horrifying image apparently shows devastation after blast on Metro carriage
Source : 
Bel RTL

A horrifying image purporting to show the devastation caused after a blast on a Metro carriage today.

The picture was allegedly taken by a Brussels underground driver after the suspected suicide attack during the morning rush hour.
The image, published on the Bel RTL site, showed twisted metal and shattered windows of a carriage. 
The bomb went off at the Maelbeek station, close to the European Union building, during the morning rush hour, killing at least 11 people.
A witness said: "We left Maelbeek station towards the centre at around 9.07, 9.10, when we felt an explosion which appeared to come from the front of the train.
"The lights went off, there was panic given what happened at Brussels airport.
"The doors of the train were forced open to get off the train. There was a lot of smoke. We left via Maelbeek station. The glass doors were blown out. The explosion must have been enormous."

[Source]